Good Design Australia – Reward agency
Australia's annual Good Design Awards program, established in 1958, is considered one of the oldest and most prestigious international design awards in the world. This aims to promote excellence in design and innovation. The Good Design Awards represent the diverse spectrum of design with 10 specific design disciplines, spanning 28 categories.
This March, I had the chance to meet the General Manager of Good Design Australia, Rachel Wye. It is interesting to gain insight into how this company of design awards thinks about design studios and to see a bigger scope of design methodology. It was great to understand what it's like "behind the scenes" of design from Rachel's perspective. When I'm meeting with design agencies, we talk about their work and how they design. With Rachel, I had the chance to talk about what people think about design and how they judge a good design.
What are the criteria?
The GOOD DESIGN AWARDS is an old award and the criteria had to evolve to be more truthful about what the design is and should be today. That is why they evaluate every design based on three main criteria which are Good Design, Design Innovation and Design Impact. There are 10 categories which you can apply to.
Good Design:
This criteria is different for each area of design. Check the link if you want to check for your category: https://good-design.org/good-design-awards/categories-criteria/
Design Innovation:
– Does the entry advance the design profession and push the boundaries of new and innovative thinking in design practice?
– Is the entry truly unique, imaginative and innovative and does it offer a totally new and groundbreaking value proposition with world-first features?
– Does the entry use new systems, materials, processes and/or technology in a clever, imaginative and original manner?
Design Impact:
– Social Impact: Does the entry have the potential to make a significant positive impact on society? Will it improve the quality of life for people and our planet and help contribute to a better, safer and more prosperous world?
– Commercial Impact: Does the entry have the potential to make a significant positive impact on business performance? Will the investment in design result in a significant increase in market share, sales and/or customer loyalty?
– Environmental Impact: Does the entry have the potential to make a significant positive impact on the environment? Will the design set a new benchmark for sustainable design and help contribute to a better and more sustainable future?
Good Design Australia introduced the design impact last year. It is interesting to see that they are now including the sustainability in the design even if you are not in the Sustainability Awards category. This is a huge step, meaning that the world is changing even if people don't see it yet. With the help of Seabin group, which is a bin that collects plastic from the water, GOOD DESIGN AUSTRALIA created their first sustainable design trophy. It is made with reused plastic from the sea. Nevertheless, they are still struggling to find a sustainable packaging for the trophy. But the first step has been taken!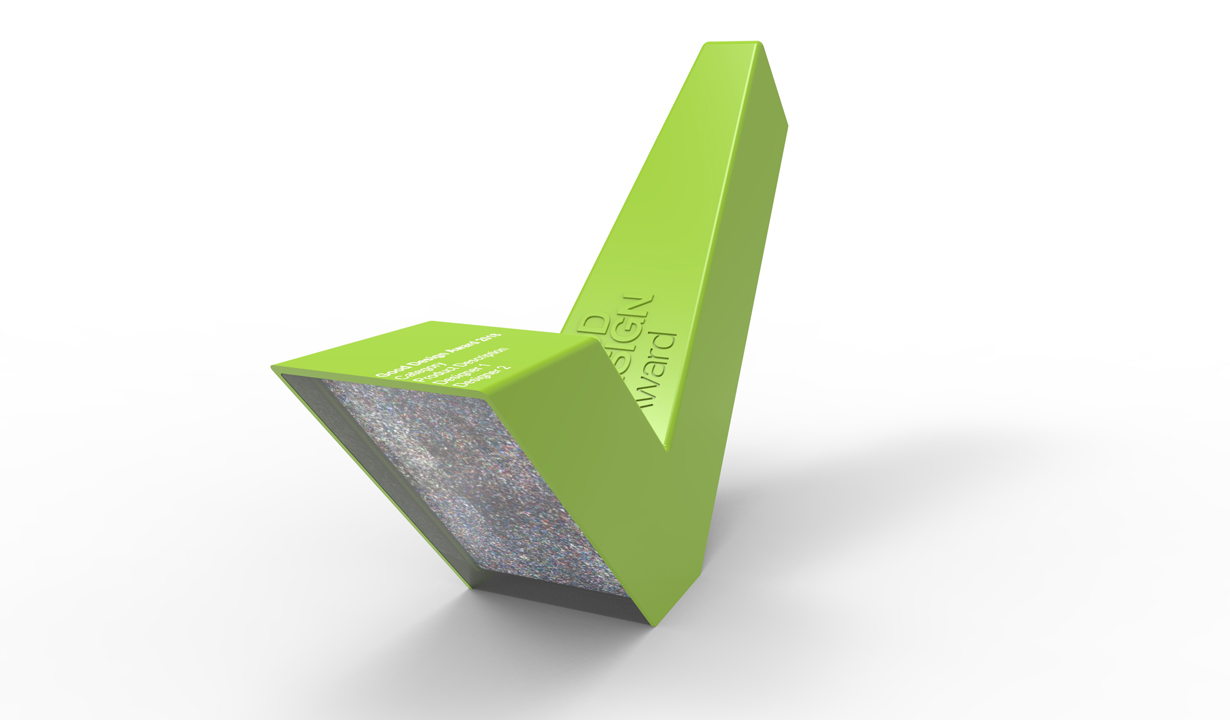 What is sustainability for GOOD DESIGN AUSTRALIA?
It is hard to define a sustainable product and it depends where we set the boundaries. Rachel gave me a simple example. A chair which is made with reused materials, made locally, which can be dismantled, is cost efficient and going to last one hundred years is not sustainable because we don't need a new chair! Of course, this is an extreme example and that is why she used this example with me. If you create a chair that meets all of those criteria, yes, you designed a sustainable chair but, it is not a useful product. What I mean is that we need to produce more chairs in this sustainable way and more products like this, but at the same time, we have to stop creating products that we don't really need. But if you do, make them as sustainable as possible. And again, I'm not saying that we should stop creating chairs or tables… but we have to do it the smart way, a better way.
The problem is also knowing what your product is going to become. Sometimes, the product is manufactured in the most sustainable way but will end up in a bin one year after the consumer bought it. This means that when we design a sustainable product, we have to think about every step of the production and the afterlife of the product.
But the first problem is that manufacturing a sustainable product isn't that easy. Compared to architecture, manufacturing a product needs a lot of expensive machinery and manufacturers want to use them as much as possible to make them cost-efficient. The problem is that some of these machines are going to be used for at least 20 years. So how can we create a sustainable product if the manufacturer is not capable of producing it? But luckily, young generations have grown up with a sustainable mentality. This means that a lot of new companies, industries and others are going to aim to make sustainable products. And the good point about this is that manufacturers will have to change if they want to survive. During this meeting, Rachel told me that it was hard to manufacture products in Australia because it is really expensive, and therefore hard to compete with China. However, some manufacturers are moving back to Australia, which is a good news.
GOOD DESIGN AUSTRALIA also have the chance to see new businesses growing. Rachel and I talked about these different businesses but we spent more time on one in particular, which is the business services (that is how we called it). What is it, you will ask? It is a business that gives part of their profits to different environmentally responsible causes that work in the same area. For example, a packaging company could invest on a tree plantation because they are using paper for their production. That way, they are limiting the effect on environmental destruction and on top of that, they can improve their CO2 impact.
Thank you GOOD DESIGN AUSTRALIA for the warm welcome and go check their website if you want more details about how you can participate or even see design projects: https://good-design.org/